Our Emphasis is on the obedient companion that serves a dual purpose in the field. There is little that can take the joy from an outdoor experience as quickly as a disobedient dog.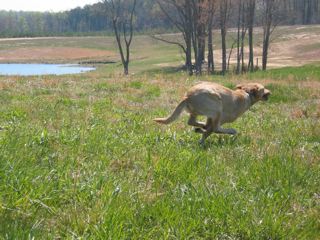 Conversely, there is little that can add pleasure as quickly as a dog that contributes to the success of the hunt. Our trained dogs are tools that not only work with us, but come through for us by retrieving downed game and conserving wildlife Hunting is a "team" sport. After training, the handler will "know" when his dog can do what it was bred to do, and will havean even greater sense of accomplishment, companionship, and enjoyment. Trained retrievers are taught not only to produce game by flushing but also to trail game; retrieve single, double, and and triple "marks"; take directions from the handler at 100-plus yards even if the quarry was not seen by the dog (a blind retrieve); and be "steady" or "honor" the work of another dog.
These animals enjoy life much more if they are "worked" all year long. Our program is designed around the concept of getting the dog ready for the fall, however, we also specialize in preparing the dog for attaining hunt test titles. These are simulated hunting situations that prove the dog's ability and their worthiness to perpetuate the breed. In 1993 our personal female lab achieved the Senior Hunter title at just 2 years old, without disqualification in AKC tests, proving the effectiveness of our training program. As with all field dogs, we will sometimes know of started and finished dogs that are for sale. In many instances this is the best place for beginners. Contact us. We may even have one for you. In all cases, even with puppies (which are also occasionally available), we will try to steer you to what we think is the best potential for your situation.
Diamond Brook Kennel is a Vermont pet boarding, pet grooming facility and Vermont Labrador Breeder that offers Garmin dog training equipment, Labrador Retrievers, pet supplies, pet food, Vermont Water Dogs, Garmin Electronic dog training equipment and more. We have been serving the Vermont area for 23 years. We pride ourselves on our customers satisfaction.