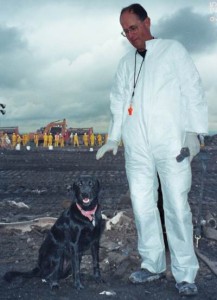 Cory is a labrador bred by us that has served the country well.
Over her 12 years of active search work she located 8 people(7 suicides and 1 live find).We were probably on 30 plus searches over the years.
In addition to the above, we responded to the 9-11 attacks at the World Trade Center and the Fresh Kills Landfill. At the Landfill she located approximately 20 separate pieces of human remains in six hours of work.
Cory was healthy through out her career. She had a prey drive that was superior and would work until she dropped, if you would let her..Her reward was " to be allowed to search".  It was a beautiful sight of nature's hard wiring to see her work a scent cone to a victim.
Bob Brody
---
Dear Staff,
We are a bit late sending this note but wanted to take the time to say Thank You.
We lost our dear friend, Paddington, this summer after many years of love and joy.  Thank you for the care that you gave him over the last 15 years..  You were a big part in making a happy healthy puppy! Thanks again for everything.
Sincerely
The Fielder Family
---
….However, it does grant the opportunity to tell you how much we love to board Millie with you!  Your facilities, expertise, and happy staff are clear signs that our dog is in great hands.  THANK YOU!
Cathy Stoddert and Tom Darling
---
With graditude to all at Diamond Brook for your exceptional care of Ruby over so many years.
Hi Rod,
Yesterday we started to train M.E. for searching, doing what we call runaways, then blind runaways where she can't see where the person is going, then we release her. Today we repeated all the above and then added having the victim hide-50 yards a way and then releasing her .
She did an unbelievable job—-flawless.  Its all in the breeding, we really didn't teach her anything but what we meant when we told her to "find".
You breeding program sure  produces great dogs, this being the 3rd dog over 14 years we have started from you, and all have been super search dogs. If she  continues like this she will be another super dog.
Thanks again,
Bob and Patti
---
Barbara –
I just wanted to say once again, thank you so much for the care of Winston. I especially appreciate today because I feel so bad for Winstonand what he has to go through next week.  He loves being freshly groomed.  Thank you and enjoy dinner or a night you don't feel like cooking!
Nancy Spaulding-Ness
---
With sorrow I must inform you of our beloved dog Sophia's passing.
We appreciate the care and affection during her sometimes tough grooming.
Your facility has been very professional and caring and we thank you.
Sincerely,
Lisa and Dale Pettis
---
We started at Diamond Brook Kennels six years ago with two British Labradors, who were preparing to show in Novice A Obedience.  We never left.  Our crew has since grown to include not only those two yellow, British Labs but also three Black Field Labs, two of which were bred by Rod.
To date, our five labs have earned fifteen AKC titles, including two Utility Titles and Two Master Hunter titles.  One of our Labs, Tater was ranked sixth nationally in Novice A Labrador group when she earned her CD title and has earned two Front and Finish Awards.  Two of our Boys, Tag and Rye, qualified for the Master Nationals, Tag finished the Master Nationals, and all three-field dogs are now running in Field Trials.  Not to be left off, one of our British Labs, Bud spent four months on Rod's truck, earned his Junior Hunter title, was test dog at the local club's annual hunt test, is working on his OTCH and UDX, and is working on his Senior Hunter Title.
While it is exciting to earn titles with our dogs and attend obedience and field trials and hunt tests, that is just the whipped cream topping to being part of the Diamond Brook Family.  At Diamond Brook, you are not only a client; you are a family member as is your dog.  Diamond Brook is not like other Kennels.  The dogs are truly loved and cared for.  No detail is too small or tedious if it pertains to caring for a dog or ensuring a dog's happiness, well being, or safety.  It is a common occurrence for Roxy, Barb, and Stephanie to hug each of the dogs.  They also know each of the dogs as individuals so if an issue arises, they are able to recognize it immediately.
Rod is truly dedicated to his dogs and is a master at bringing dogs to the peak of their ability.  Having spent many hours as a bird boy for Rod and observing Rod's dogs, as well as other trainers' dogs at trials, without a doubt Rod is a master at producing a very consistent dog that knows its job.  Rod does not just train for the next trial. He trains for the long-term and with the best interest of the dog in mind.    Rod's dogs respect him and in return, he respects them.  Rod is unique in that he can work with dogs as well as their owners / handlers.  If you are willing to put in the time and energy, he is willing to assist you in becoming a better trainer and handler.  Rod is a rarity in that he is a trainer of trainers.
Personally, I have achieved accomplishments and continue to achieve goals that once I never even dared to dream.