Over 80% hunt test pass rate in the last 5 running years
Train – don't complain!!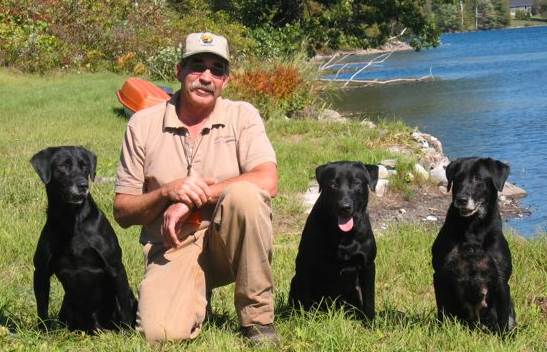 We sincerely believe that trained dogs are happier dogs. Dogs like things black and white, they like rules and pack leadership. They are also much more enjoyable pets with a stronger attachment to their owners (pack). Training should begin when the puppy is about 7 weeks old. Formal dog training classes can begin as young as 4 months, usually 6 months is a safe time for all dogs. Seldom is a dog too old to learn.
The assistant trainer is Bill Levee.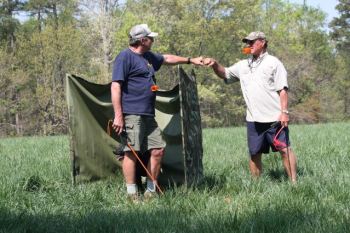 The head trainer is Rod Mack. He has been training dogs since 1972, hundreds of them. Rod began his career as a high school teacher and obedience training, moved into competitive obedience where his dogs achieved Dog World Awards, Obedience Trained Champions (OTCH), numerous High In trial (HIT), class placings and wins, and, national wins. For 25 years he ran obedience training group classes. He moved into pointer training where his personal pointer ran the NSTRA National at 2 yr. He trained 3 dogs to Schutzhund III, FH with New England Regional high tracking dog(man tracking) 3 times. He has since settled into Field Trial and Hunt Test retrivers when not training gun dogs. He has trained dogs that achieved FTCH, over a dozen and a half Master Hunters(MH) and Qualified All Age numerous JH and SH dogs.

This variety has produced a knowledge of dog behavior that is unrivaled. Witnessing a variety of characteristics in a variety of breeds allows us to bring out the best in the individual. Genetic potential can be achieved.
We offer 3 basic programs:
1. Private lessons
—-designed for the owner that wants to do their own training. Instruction is given to the owner to properly train at home. Our process has been developed over 30 years. We have tried all known techniques and utilize what is the most effective, when properly used. We look for results not repeats.
2. Resident training
—-for the owner that does not have the time, capability or desire to train themselves. There are 3 behaviors that any dog needs to know well; Stop, Come, Go. If these 3 behaviors are trained well, it is easy to build on them. We train the dog for you! Generally we can send home a well programed dog after a 2 week program. Special needs may take longer.
3. Field training
—designed for the gun dog, hunt test dog, or field trial dog. All dogs start at the same place, basic obedience.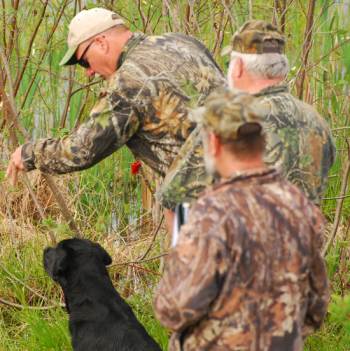 Since the field dog builds with time, this is a much longer program. Many of our higher level dogs are away from home for a considerable amount of time. We cannot "push" the high level dog too hard, especially in the formative, concept training phase. Here we are not simply training behaviors but concepts in a variety of situations, even a variety of geographical areas. Our field training emphasis is on the well mannered but useful field dog. This is true whether you are in the duck blind, hunting upland, running hunt tests or field trials. These activities allow you to work with your dog year 'round and gives you a sense of comaraderie with other trainers. Often this will open your world to friendships unlimited by geography.
Training for advanced water and land work requires special conceptual learning for the dog. It is a step-by-step procedure. Having access to water and land designed for a learning progression makes the job much easier for the dog. Our "technical water" is designed specifically for this purpose. The most successful dogs learn to take straight lines to the "fall". Advanced dogs need balance in these behaviors.