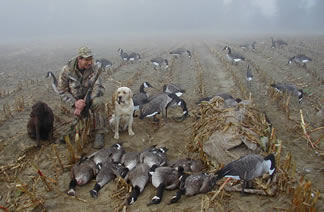 After having been around working dogs professionally for nearly 50 years, we think that we know a little bit about what makes a working dog tick. In a nutshell I call it desire, motivation. Without self-motivation a good employee will never be. So it is with dogs. We do not breed for color at Diamond Brook.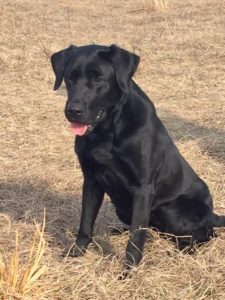 If it happens, it happens, but we refuse to breed for one characteristic, especially when recessive genes are involved that can carry along other recessive genes. We are concerned with the overall athletic working ability in the healthiest package we can find, not the length of his tail. This does not mean that our dogs are "ugly". If a breed judge looks at an animal, their first overall impression gathers attention. This is our concern. Your overall impression is that of a pleasing, balanced animal.
Of utmost concern to our breeding program is what is between the ears. We are looking for breeding animals that have proven their desire and ability to work. All of our breeding bitches have at least a Senior Hunter title and most have Master Hunter titles. OFA must be at least Good and most have Excellent hip ratings. Eyes have been Certified clear. Likewise our stud dogs are chosen for the same characteristics and then some. We look only at MH, FC, AFC, CFC, CAFC proven males that are prepotent.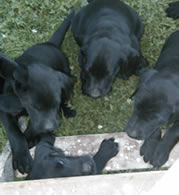 We look for animals that can remember where a bird has fallen, get to it looking like they can and were meant to, have the courage to face environmental hardships, hunt because it is in their hearts, train like they might miss something if they don't, and hunt like they are a member of a team!! Simple things (like this step ladder) can hold great interest to the developing senses. During this period (4-7 weeks) the puppies will also learn how to communicate with each other.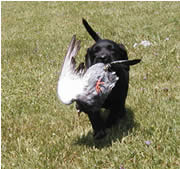 A companion working labrador will genetically be predisposed to doing his job by the time they are 7 weeks old. The very best working potentials will have enough prey/defense/ retrieve drive to deliver a live pidgeon at seven weeks. Developing communication, prey drive ( instinct to chase) appears to be only playing. But this is very important playing.
Our breeding program compliments great attitudes, style and desire. We do not breed for anything but an athlete physically. Mentally we are looking at the marking dog that perseveres and is highly trainable, able to withstand the rigors of repetitious training. Carrying straight lines, for long distances, across varied terrains is a measure of training and perseverance in an animal loving it's job. We normally breed 1 to 3 litters per year.